Uniquely curated for Bellagio Gallery of Fine Art, In Bloom is a visual exploration and celebration of spring's essence. Showcasing a spirit of transformation through interpretations of nature, whimsy and abstraction, this exhibition features a diverse array of works stewarded by Tia Collection of Santa Fe, NM. From still life, hard-edge and scientific abstracts, to landscape paintings, sculptures and photography, In Bloom considers understandings of beauty and identity, the simplicity of daily life, and the complexities of collective change.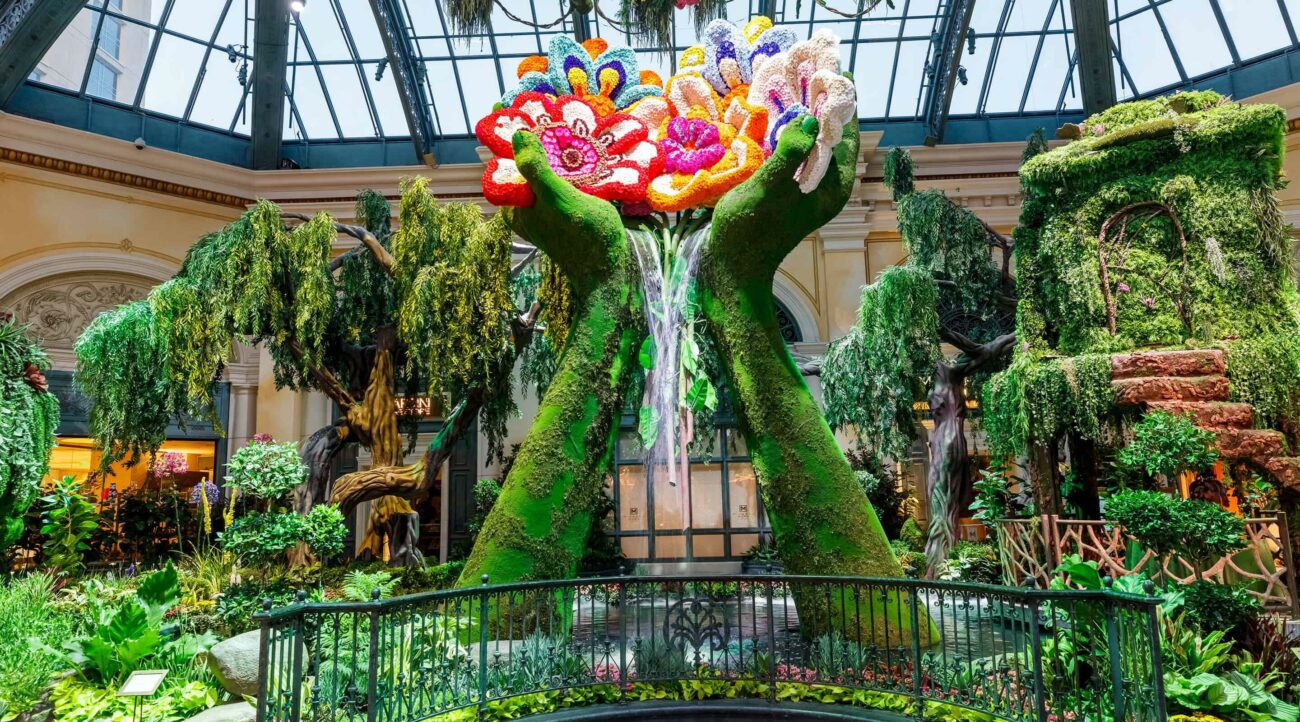 Each year, millions of visitors enjoy Bellagio's Conservatory & Botanical Gardens—a two-story atrium that features larger-than-life displays celebrating the seasons, including the Lunar New Year, with live flora and fauna, seeds and built structures. Bellagio's tradition of stunning seasonal immersion gave inspiration for the title and thematic thread of this exhibition. "To bloom" is to be in a state or period of the greatest beauty, freshness or vigor—a transition that often occurs following an extreme change of global conditions. By pairing art of the twentieth century American Southwest alongside internationally recognized contemporary art, these works, through the aesthetics of beauty, subversively create an engaging entry point for conversations around social justice for our audience. While the initial selection process of artwork may have begun with the simple question, "does this feel spring-like?," it quickly expanded to consideration of concepts around metamorphosis, humanity, identity and our relationship to nature. As visitors move through the gallery, the thematic relationship between works oscillate between visual curation and conceptual juxtapositions. While special attention was paid to the artist's intention, representing a diverse perspective within the selected works was equally important, which makes this exhibition (to date) the most diverse showcase of artists Bellagio Gallery of Fine Art has ever presented.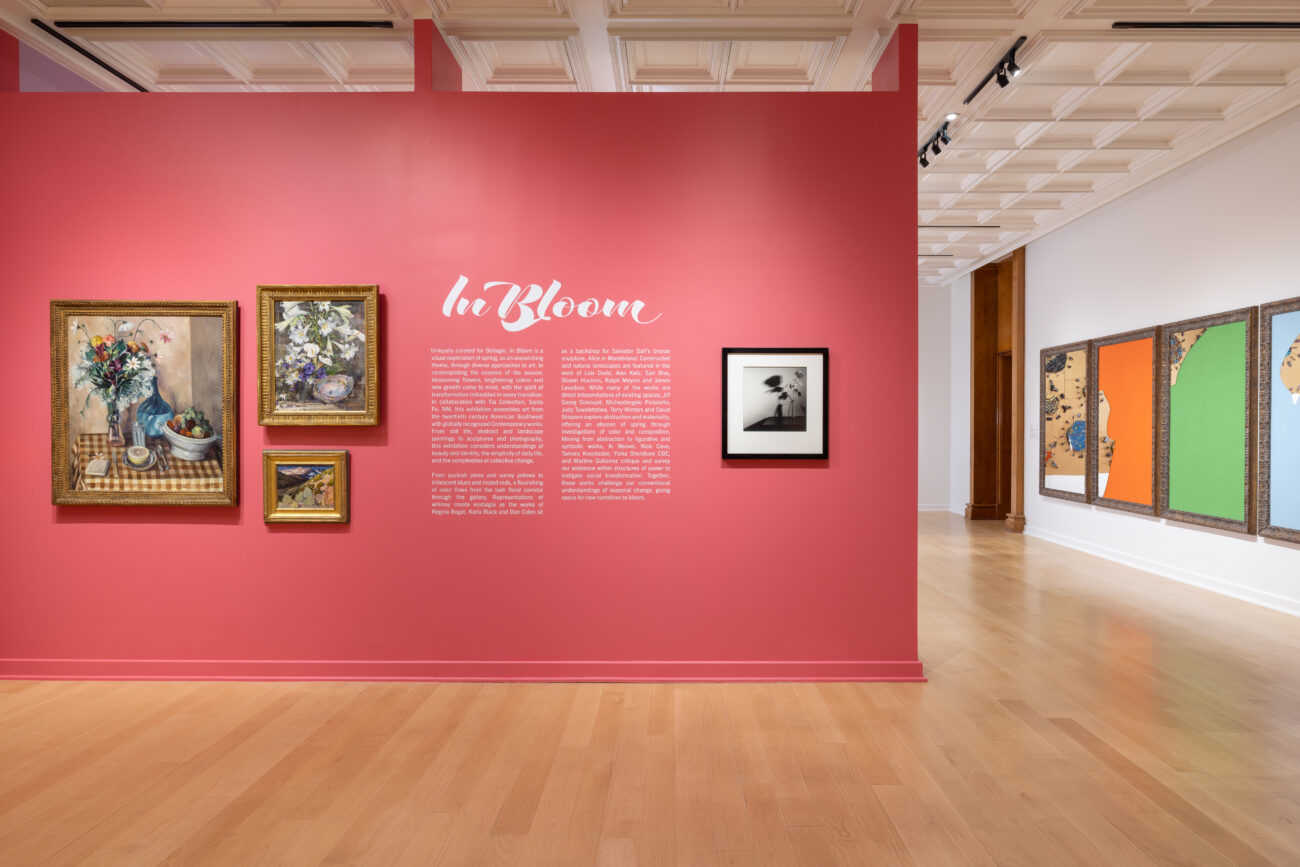 A nod to the beauty of the Conservatory & Botanical Gardens, the gallery's entrance transports visitors through an immersive corridor of lush fauna and playful orange neon that encourages one to "live life in full bloom." Beyond the corridor, brightly painted walls of magenta, orange and yellow energize the intimate two-room gallery, offering a vivid and eclectic canvas throughout the space. Set against a bright pink wall, a salon-style gathering of classic still life photography and landscape painting greet guests. Ralph Meyers' Early Spring, N.M. (1922), one of the earliest works in the exhibition, deftly captures the contrasting colors of a desert awakening through the artist's clear reverence of the dramatic New Mexican vista. Coupled with the still lifes of Meyers' contemporaries, Nicolai Fechin's Lily and Shell and B.J.O Nordfeldt's Still Life with Grapefruit (recto), Red House (verso) (c. 1930), we receive a glimpse into the early days of New Mexico's renowned art community. Rose (1977) triumphantly displays American photographer Robert Mapplethorpe's expertly honed skill of dramatic and erotic composition. The only black and white photograph in the exhibition, this solo, cut rose, just at the onset of wilting, conjures images of romance, longing and the inevitability of death.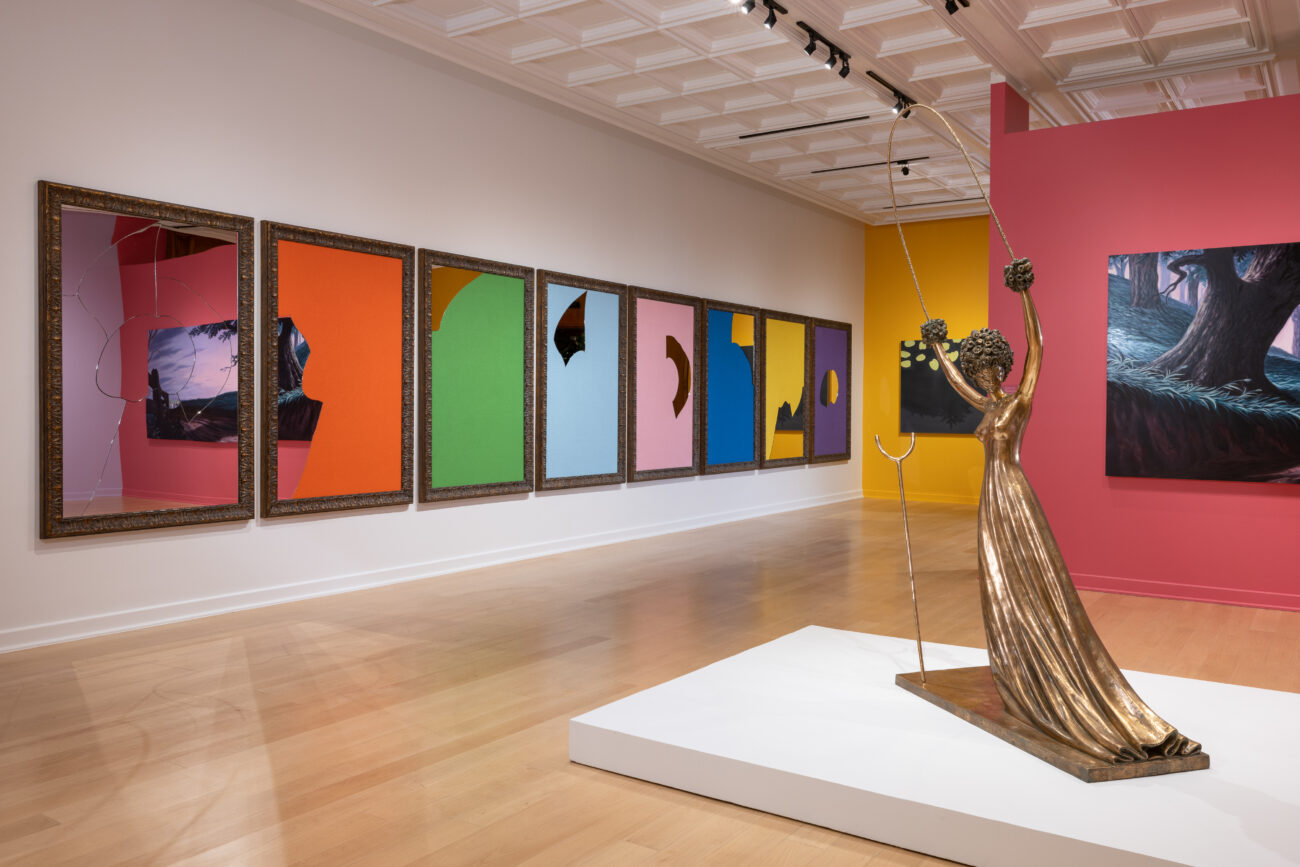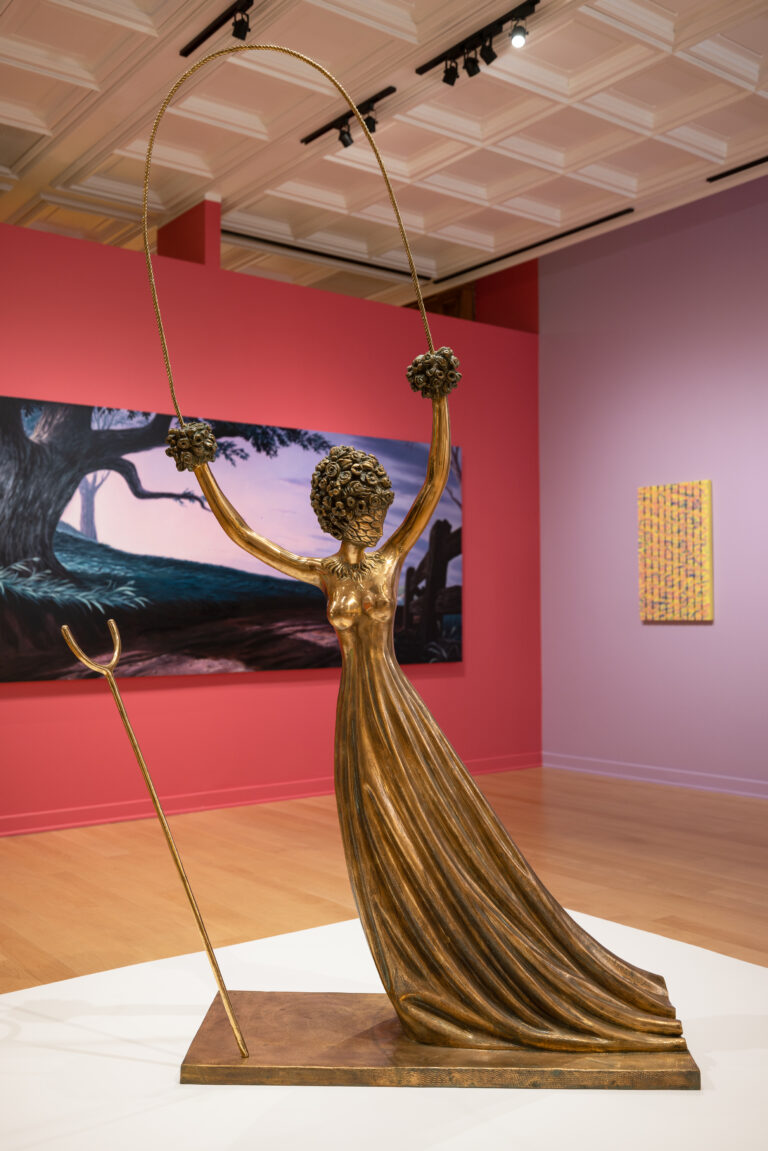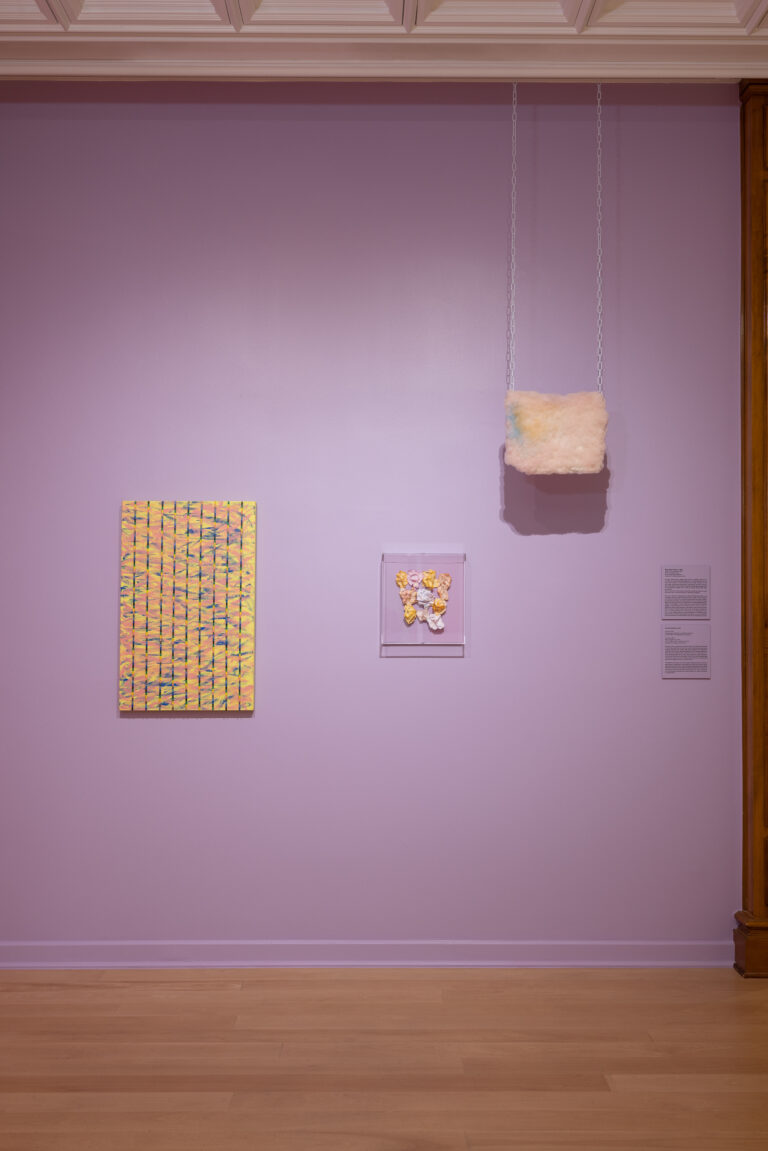 Highlighting hard-edge abstraction, Alex Katz's Homage to Monet 3 (2009) and Michaelangelo Pistoletto's Color and Light (2017) flow beautifully together as Pistolleto's fractured mirror expands and contracts across eight color-filled panels. Similarities in shape are seen in the reflection of Katz's approach to his personal water lily pond, seen in the pale yellow lily pads scattered across inky water, balanced by the jagged shadow of an unseen reflected landscape. From puckish pinks and sunny yellows to deep blues and soft lavender, the colorful combination of Regina Bogat's Garden of the Last Empress (1990), Karla Black's From Found (2017) and That Time (2020) and Dan Colen's Mother (Distant Town) (2018-2021) sits as a nostalgic backdrop for Salvador Dalí's whimsical bronze sculpture, Alice in Wonderland (c. 1977-1984).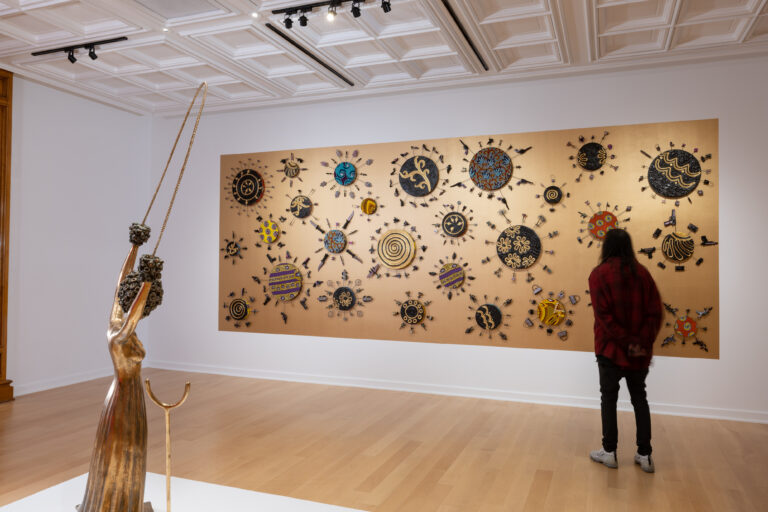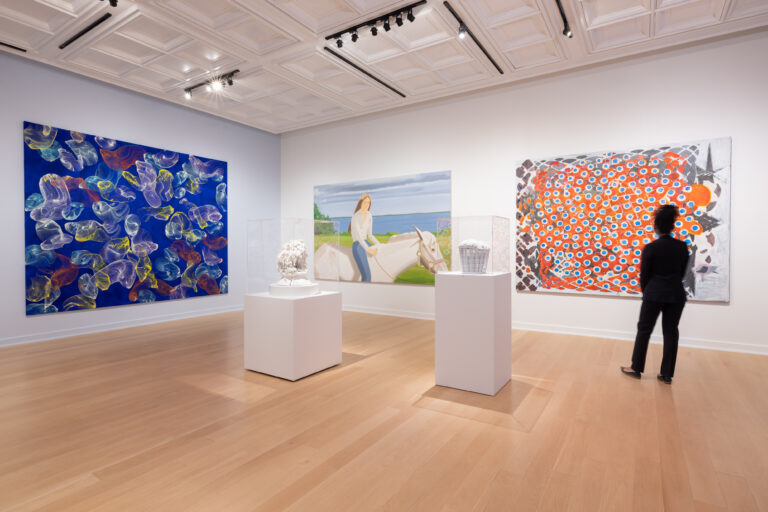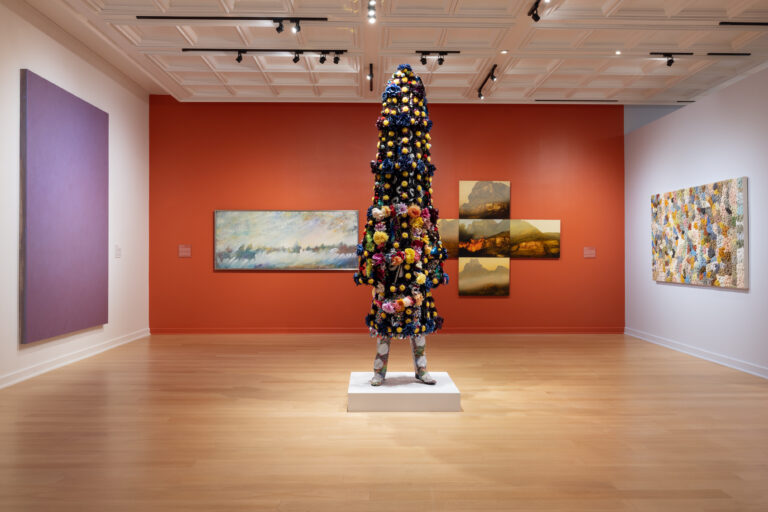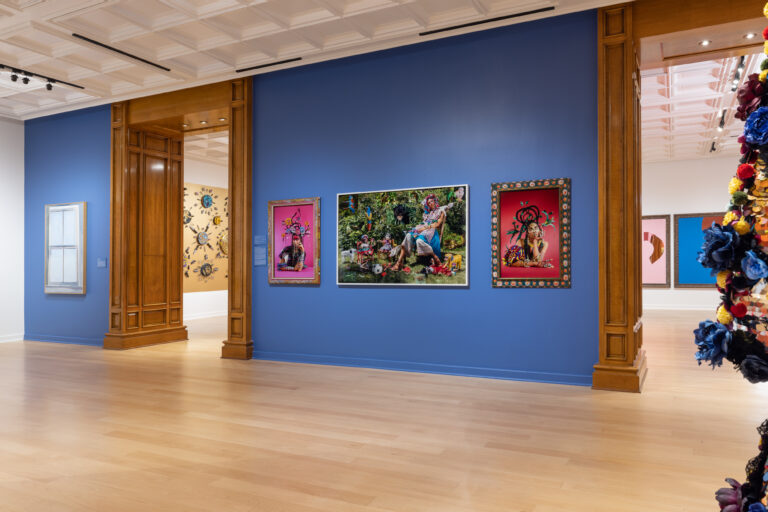 Departing from color and whimsy to figurative and symbolic works (in no particular order), Ai Weiwei's Bicycle Basket with Flowers (2014), Nick Cave's Soundsuit 8:46 (2021), Tamara Kvesitadze's Ali and Nino (2017), Yinka Shonibare CBE's Bling Painting (2013) and Martine Gutierrez's photographic portraits critique and survey our existence within structures of power to instigate social transformation. From her comprehensive series Indigenous Woman (2018), Gutierrez's three featured self-portraits confront ideas of globalism, identity and femininity through recreations of herself as Tyra Banks' Eve Doll and Indigenous Mesoamerican deities Chin and Xochipilli. In her portrait Queer Rage, Imagine Life-Size, and I'm Tyra, p66-67 from Indigenous Woman (2018), Gutierrez's outfit, made of items by major fashion labels that borrow from Indigenous traditions and aesthetics, is a commentary on appropriation. Just as visually layered with symbolism, Yinka Shonibare CBE's large-scale Bling Painting is composed of 27 round discs on a golden backdrop. Miniature representations of decadence, such as stilettos, luxury cars, handbags and fighter planes, flower from African batik fabric, centering the work within an exploration of global economy. Through this elaborate swirling of objects, Shonibare CBE offers a sharp commentary on the excesses of the financial industry and the pursuit of power and money that contributed to the Cypriot and global financial crisis of 2012-2013. Similarly, Nick Cave's Soundsuit 8:46 is a response to national and global upset. Cave's larger-than-life sculpture, composed of bright floral and patterned textiles, sequins and synthetic flowers, celebrates and mourns the life of George Floyd, whose murder by Minnesota Officer Derek Chauvin on May 25, 2020 rallied an international movement of social change around the protection of Black lives in America and beyond.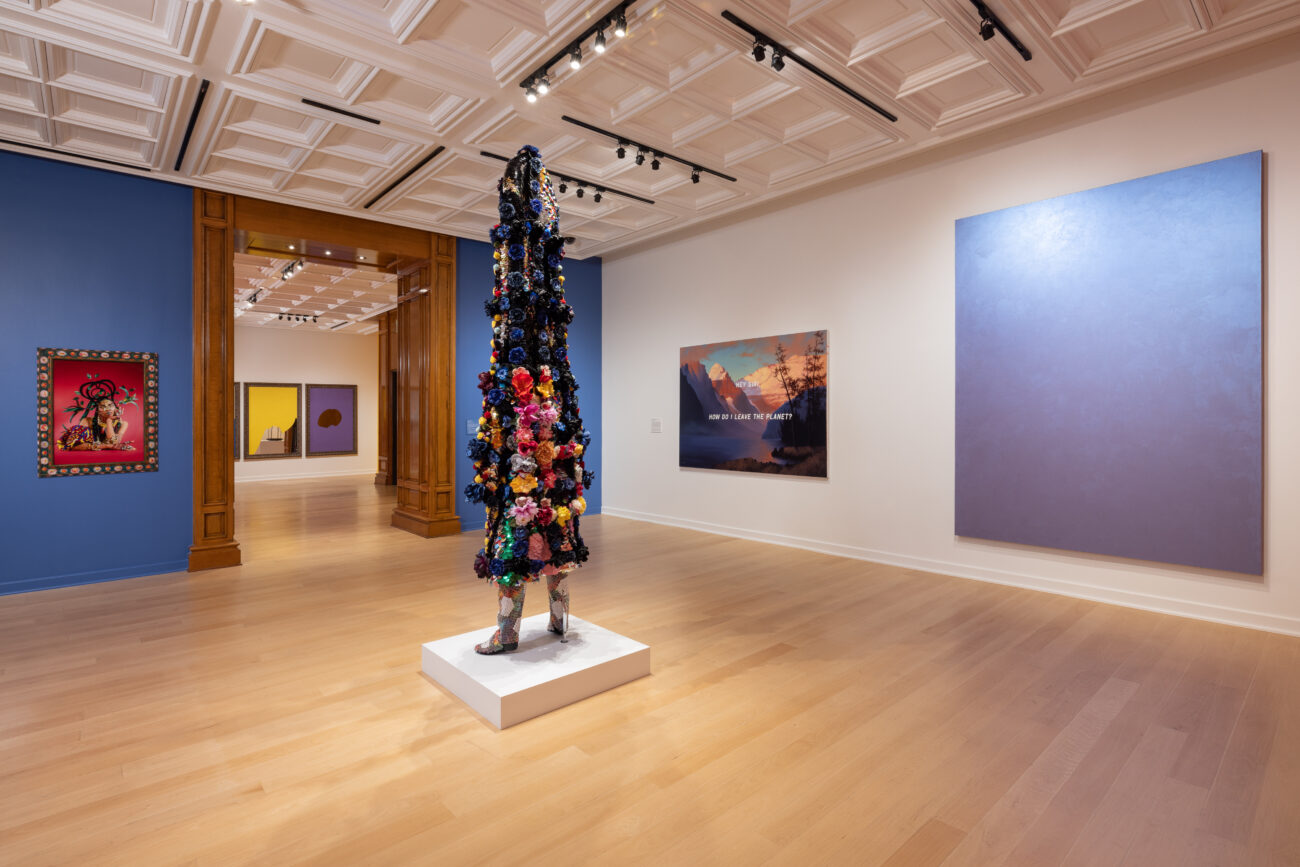 Natural and constructed landscapes are featured in Lois Dodd's plein air paintings Blue Sky Window (1979) and Falling Window Sash (1992), Alex Katz's Jean on Horse (1976), Earl Biss' Charging Through a Rainbow Storm (1997), James Lavadour's Sunflower (1999) and Shawn Huckins' Evening Glow at Lake Louise: Hey Siri, How Do I Leave the Planet? (2019). Framed by the burnt orange wall of a dramatic Western sunset, Sunflower, which documents a flaming mountainside in a five-panel blooming painting, is paired with Charging Through a Rainbow Storm. Painting with multiple layers, Lavadour builds transparent, tonal striations of a distinct mountainside to mimic the geological forms he studies. In contrast, Biss' expressive portrayal of Apsáalooke Nation (commonly known as Crow) horsemen, rushing through an unknown misty field during a colorful, dream-like storm, veils identifying details of a precise narrative. Yet the force of nature's transformational power remains ever-present in both image plains. Together, these artists present a departure from widely understood Native American painting aesthetics, and create a new pathway for contemporary Indigenous art.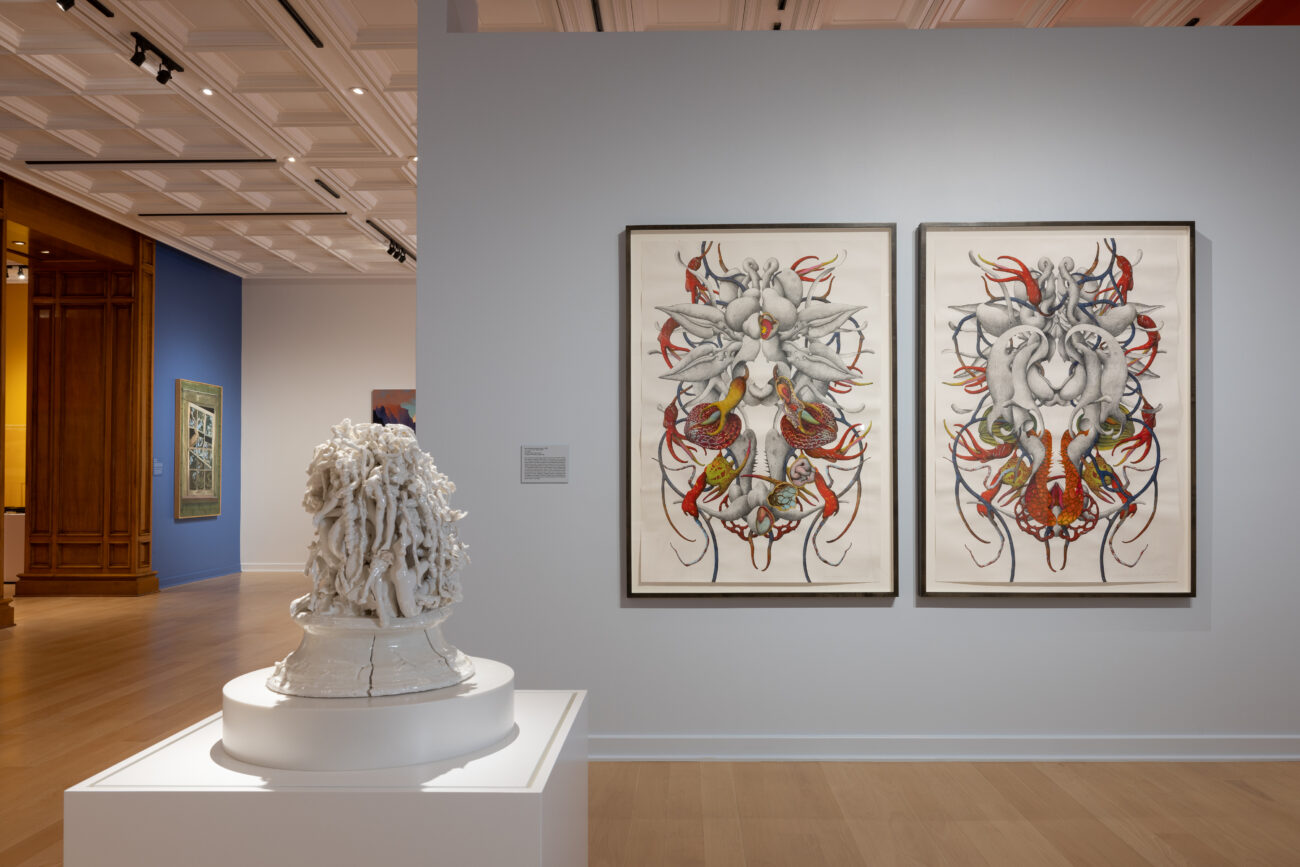 While many of the works featured are direct representations of object and space, Jiří Georg Dokoupil's Untitled #4 (2015), Miron Schmückle's Im Garten des Priapus (2007), Rachel Kneebone's At the Edge of Dawn and Darkness (2009), Terry Winters' Cobalt (Blue) (2013), Santa Fe-based artist Judy Tuwaletstiwa's text. shards 5 (2019) and David Simpson's beautifully iridescent Latterday Bettersea (1998) explore abstraction and materiality through a lens of scientific exploration and methodology. Within each work, an illusion is created through material use and applied technique. Appearing plush and fabric-like in materiality, text. shards 5 is in fact composed of rough and rigid shards of glass, gently fired to maintain the raw texture of silica sand. Meticulously layered to create a rich, lustrous surface, Latterday Bettersea uses approximately thirty coats of a singular color of interference paint, creating an opalescent color that reacts to a subtle shift in body and light to create the optical illusion of color change.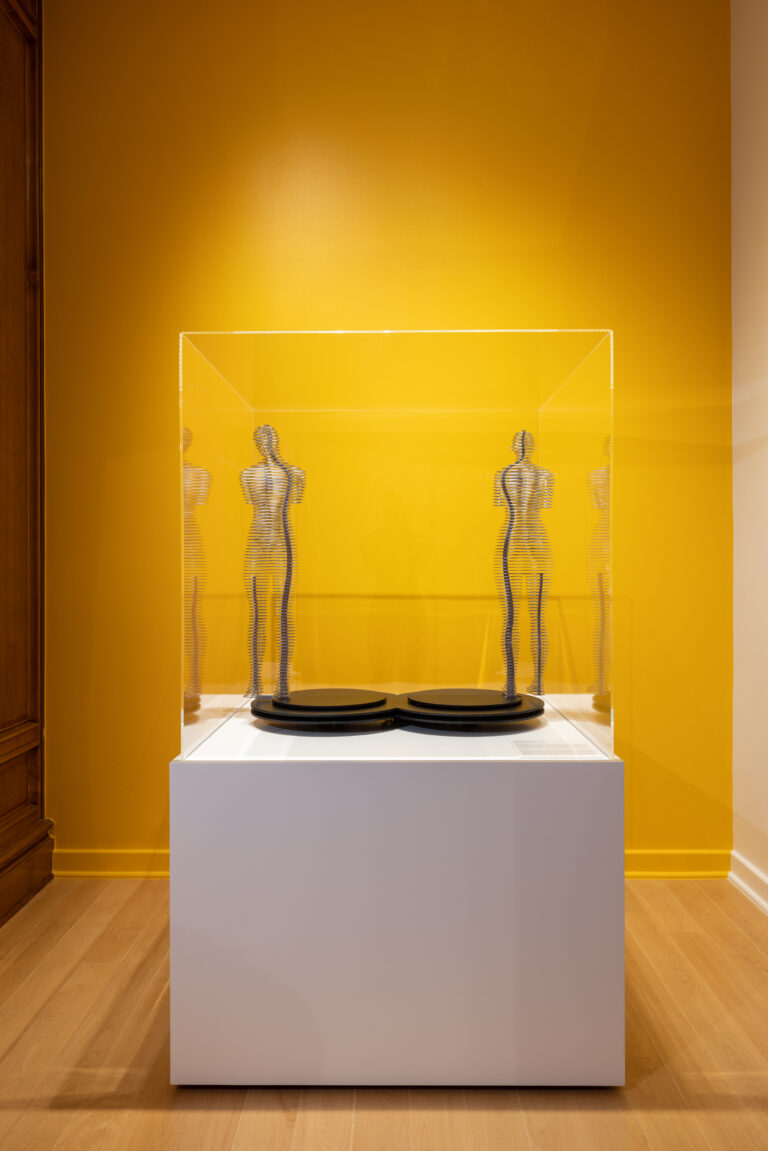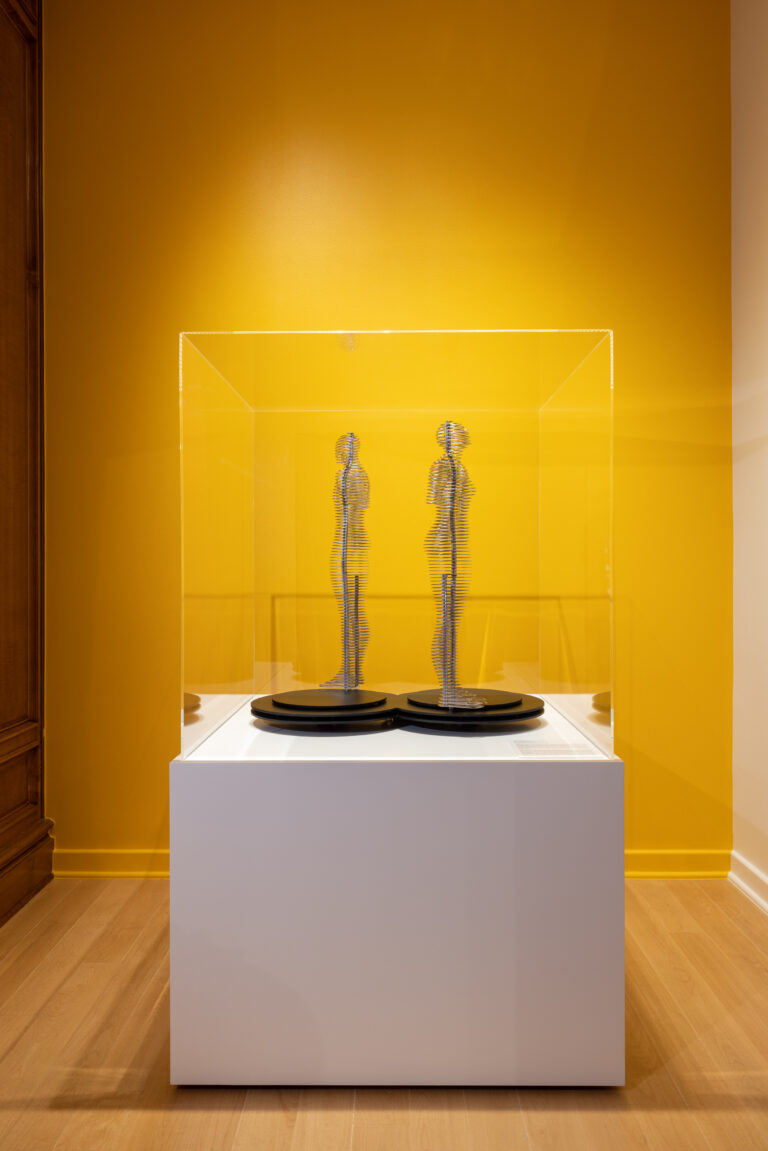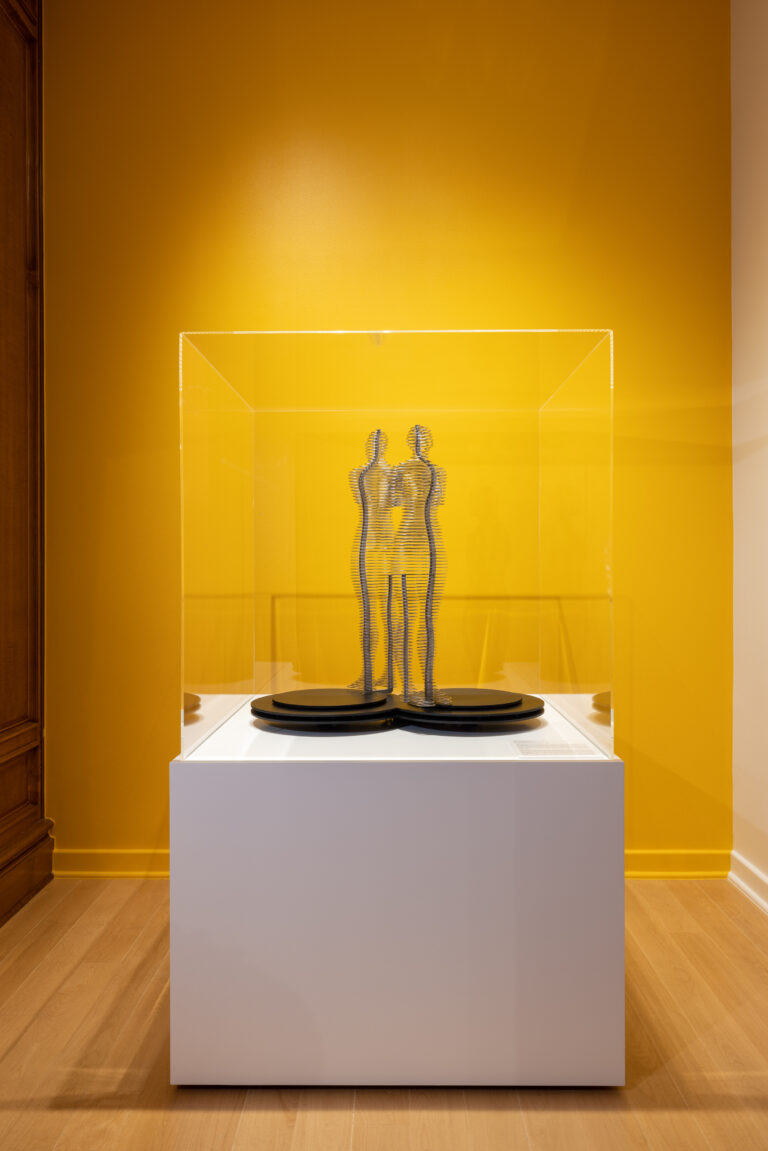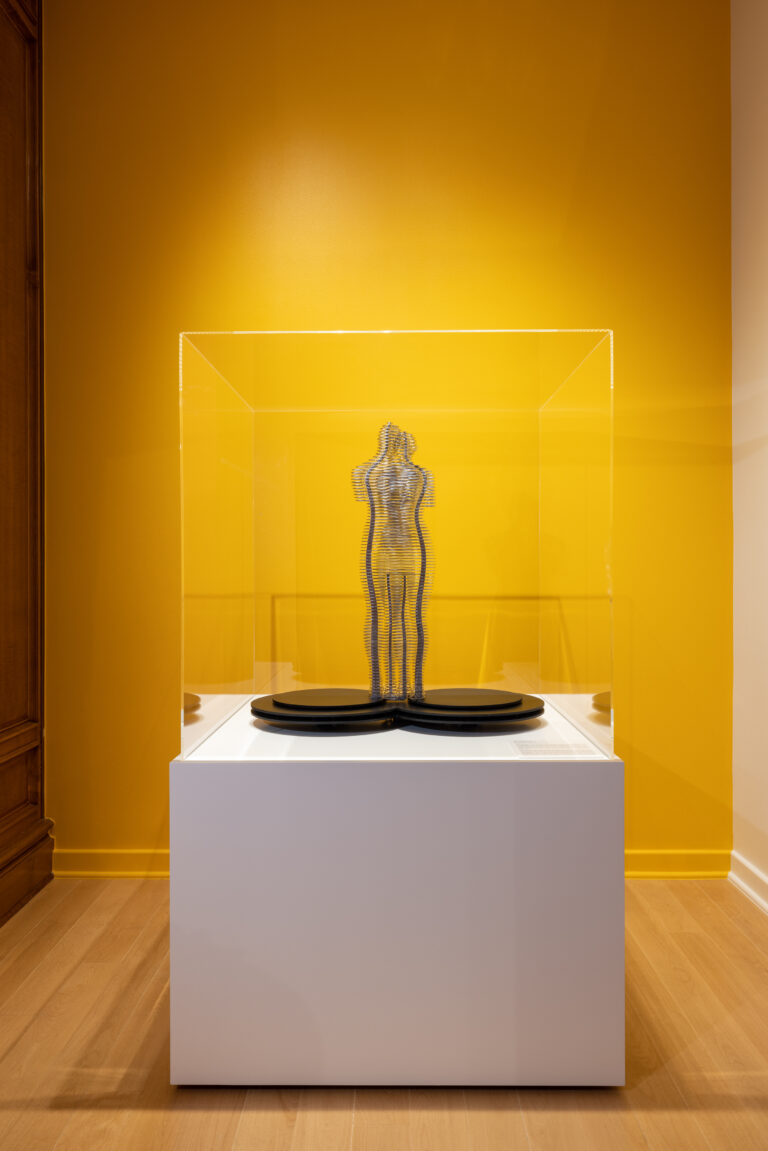 The expressions and concepts showcased throughout this exhibition reveal endings, continued existence and new beginnings in our shared humanity. Through the curation of these vastly different yet complementary works, In Bloom offers a fresh approach to a spring exhibition by considering the creative power of beauty, identity, the mundane and the complexities of collective change. Together, these works challenge our conventional understandings of the essence of season, offering space for new narratives to bloom.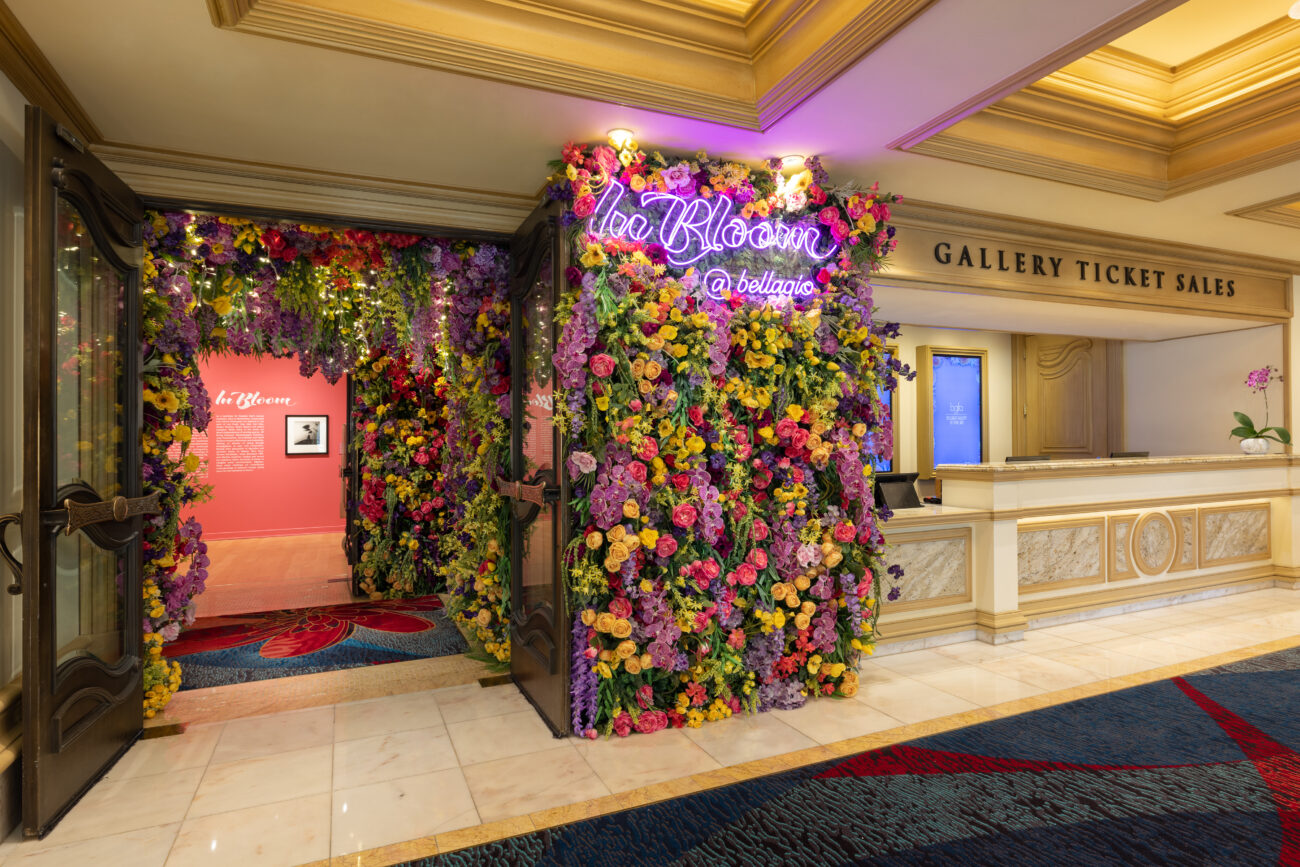 Thank you to Demecina and Bellagio team for creating such a wonderful exhibition, it has been an honor and a privilege to share these works in this beautiful space. We look forward to the opportunity to work with you again.