Nick Cave (b. 1959, Fulton, MO; lives and works in Chicago, IL) is an artist, educator and foremost a messenger, working between the visual and performing arts through a wide range of mediums including sculpture, installation, video, sound and performance. Cave is well known for his Soundsuits, sculptural forms based on the scale of his body, initially created in direct response to the police beating of Rodney King in 1991. Soundsuits camouflage the body, creating a second skin that conceals race, gender and class, forcing the viewer to look without judgment. They serve as a visual embodiment of social justice that represent both brutality and empowerment.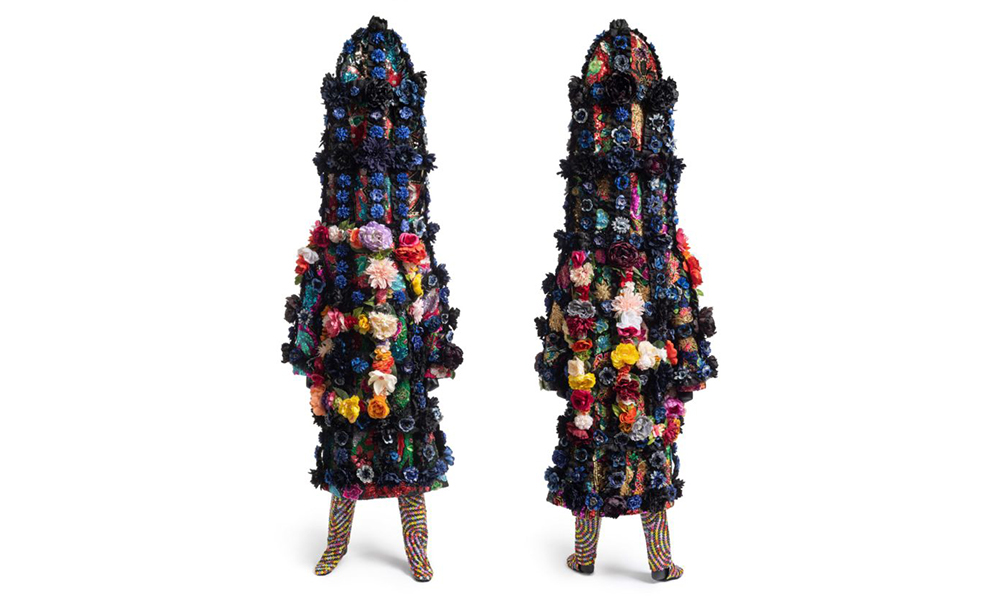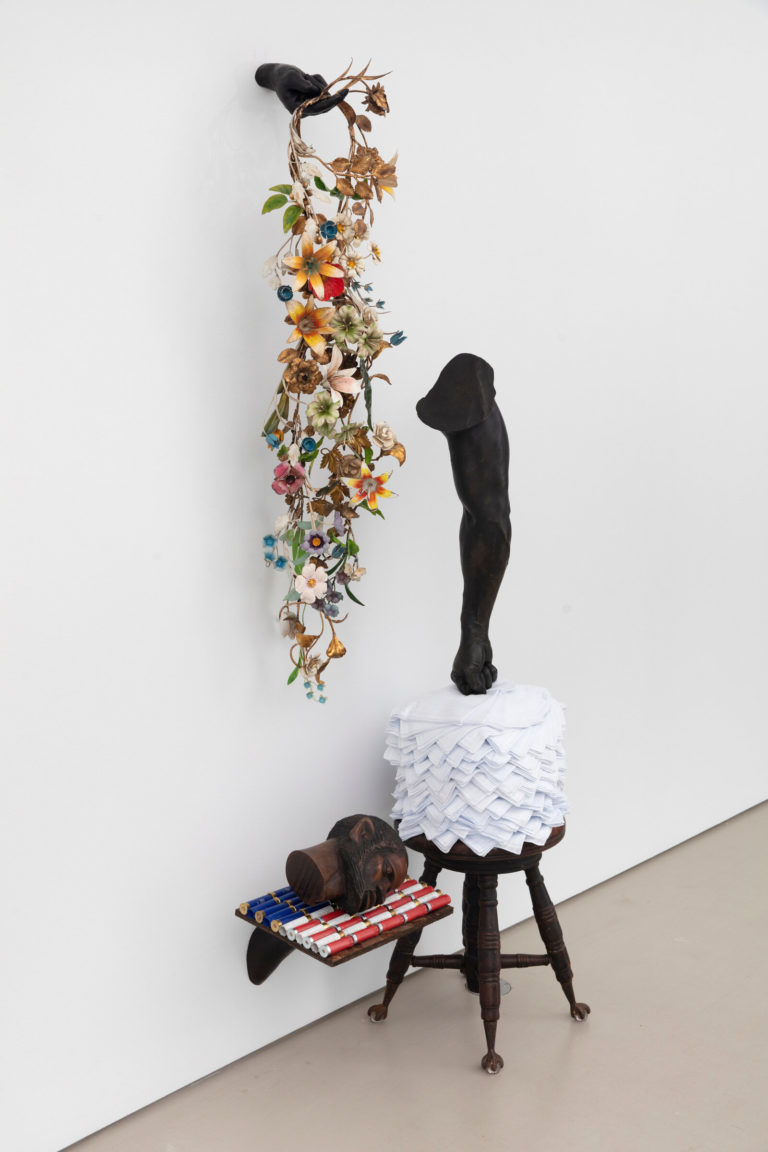 Throughout his practice, Cave has created spaces of memorial through combining found historical objects with contemporary dialogues on gun violence and death, underscoring the anxiety of severe trauma brought on by catastrophic loss. A palpable pressure can be felt as weighted body parts press into stacks of delicate handkerchiefs, speaking to the dichotomy of anger and grief as a result of violence. Challenging "who is free" and "who is brave," American eagles perch atop the heads of black men, some caught in the midst of wrenching screams, only to be muted by the bronze cast pillows on which they lie.
The figure remains central as Cave casts his own body in bronze, an extension of the performative work so critical to his oeuvre. A suite of oversized bronze gramophones seamlessly grow from raised fists, luring us in with their unsettling silence and questioning how much power the citizens of this nation actually possess. Cave reminds us, however, that while there may be despair, there remains space for hope and renewal.
Image: Nick Cave, Untitled, 2018, Tia Collection
From dismembered body parts stem delicate metal flowers, affirming the potential of new growth, Cave encourages a profound and compassionate analysis of violence and its effects as the path towards an ultimate metamorphosis. While Cave's works are rooted in our current societal moment, when progress on issues of global warming, racism and gun violence (both at the hands of citizens and law enforcement) seem maddeningly stalled, he asks how we may reposition ourselves to recognize the issues, come together on a global scale, instigate change, and ultimately, heal.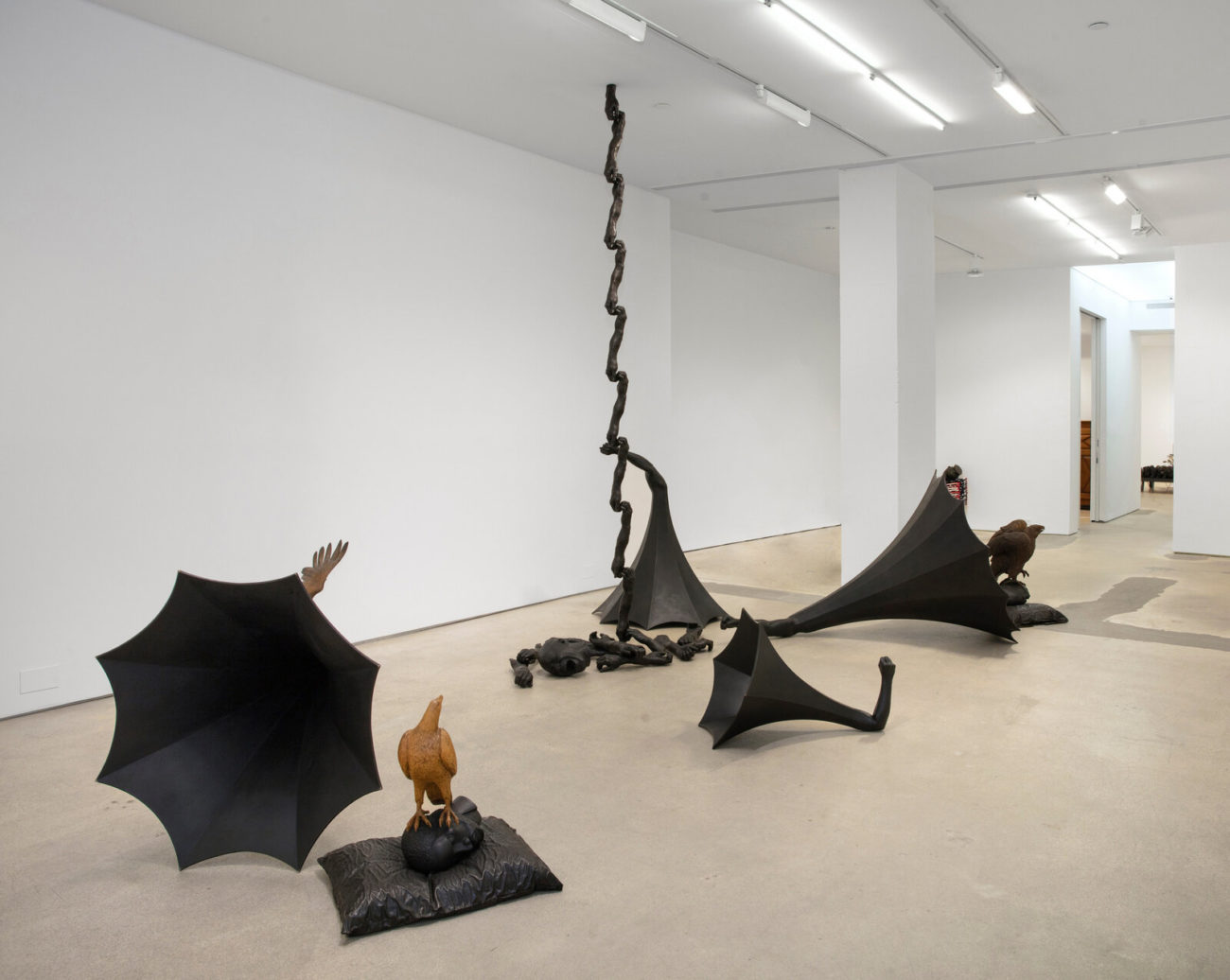 Cave's work is part of many public collections, including the Brooklyn Museum, New York; Crystal Bridges Museum of American Art, Bentonville, AR; the High Museum of Art, Atlanta, GA; the Hirshhorn Museum and Sculpture Garden, Washington, D.C.; the Museum of Modern Art, New York; the Museum of Fine Arts, Boston; the Museum of Fine Arts, Houston; the Museum of Contemporary Art, Chicago; the National Gallery of Canada, Ottawa; the National Gallery of Victoria, Australia; the San Francisco Museum of Modern Art, CA; and the Trapholt Museum, Kolding, Denmark, among others.
Forothermore, a forthcoming solo exhibition of his works, will be presented at the Museum of Contemporary Art, Chicago, Illinois, March 14 – October 2, 2022. Tia Collection is thrilled to be loaning Cave's installation work Platform (pictured above) for the exhibition.
All artwork photography and text courtesy of Jack Shainman Gallery
VIDEO: Nick Cave: Thick Skin | Art21 "Extended Play, " Art21, 2016