For the exhibition celebrating the impact and influences of First Californian artists, Wheelwright Museum of the American Indian Chief Curator Andrea R. Hanley (Navajo) tells the story of a constellation of bright artists, both past and present. California Stars: Huivaniūs Pütsiv brings together multiple generations of artists who have challenged and changed the contemporary Indigenous art field for more than six decades. Included in the exhibition are eight works from Tia Collection ranging from sculpture to photography and painting by seminal artists Rick Bartow, James Luna, Fritz Scholder and Billy "War Soldier" Soza.
Huivaniūs Pütsiv, when translated from Chemehuevi, means "stars with us and around us," Hanley explains. As much as the exhibition brings together historical heavyweights like James Luna and Fritz Scholder, it also urges viewers to see how contemporary Native artists feel and express the ripples of inspiration from their work today. "These artists have guided us into a deeper level of complex issues," she continues. "I was really interested in honoring, illuminating and looking at the inspiration that all of these artists have provided."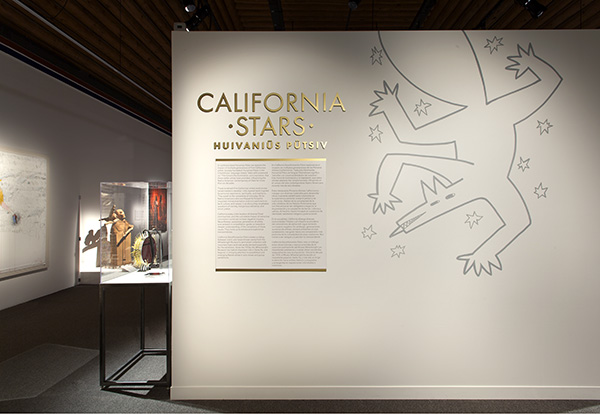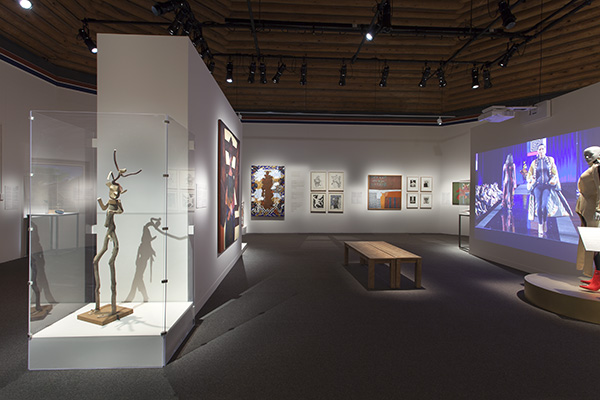 Rick Bartow (1946–2016) was a member of the Mad River band of the Wiyot tribe from Northwestern California. Known for his expressive and emotionally charged paintings and sculptures, his works often explore themes of identity, spirituality and the connection between humans and nature. His sculpture Man & Owl Conversation is a perfect example of this connection. While color is absent, the artist's hand is not—gouging, hammering, nailing, and gluing—and imbues his sculpture with duality and dimension. In his paintings, Bartow employed a unique blend of abstraction and representation, using bold lines, vivid colors, and symbolic imagery to convey a profound sense of emotion and raw energy. In 2013, Bartow suffered from a major stroke and became greatly aware of the potential that all he knew could be erased. As he was experiencing the stroke, he deliberately repeated over and over the phrase "A, B, C, 1, 2, 3," as well as his birthdate and other factual personal histories in an attempt to stave off both his fear and the too likely departure of some portion of his mental capacity—and with it, his self-identity. Jordan Schnitzer Museum of Art's Jill Hartz wrote, "Within four days after the stroke, Bartow was back in the studio….His first experiments, like Deer Magic (pictured below in the last image), captured his medical experience, even to the inclusion of the same letters and numbers that in their humble, yet repetitive way confirmed that he was still alive and an artist."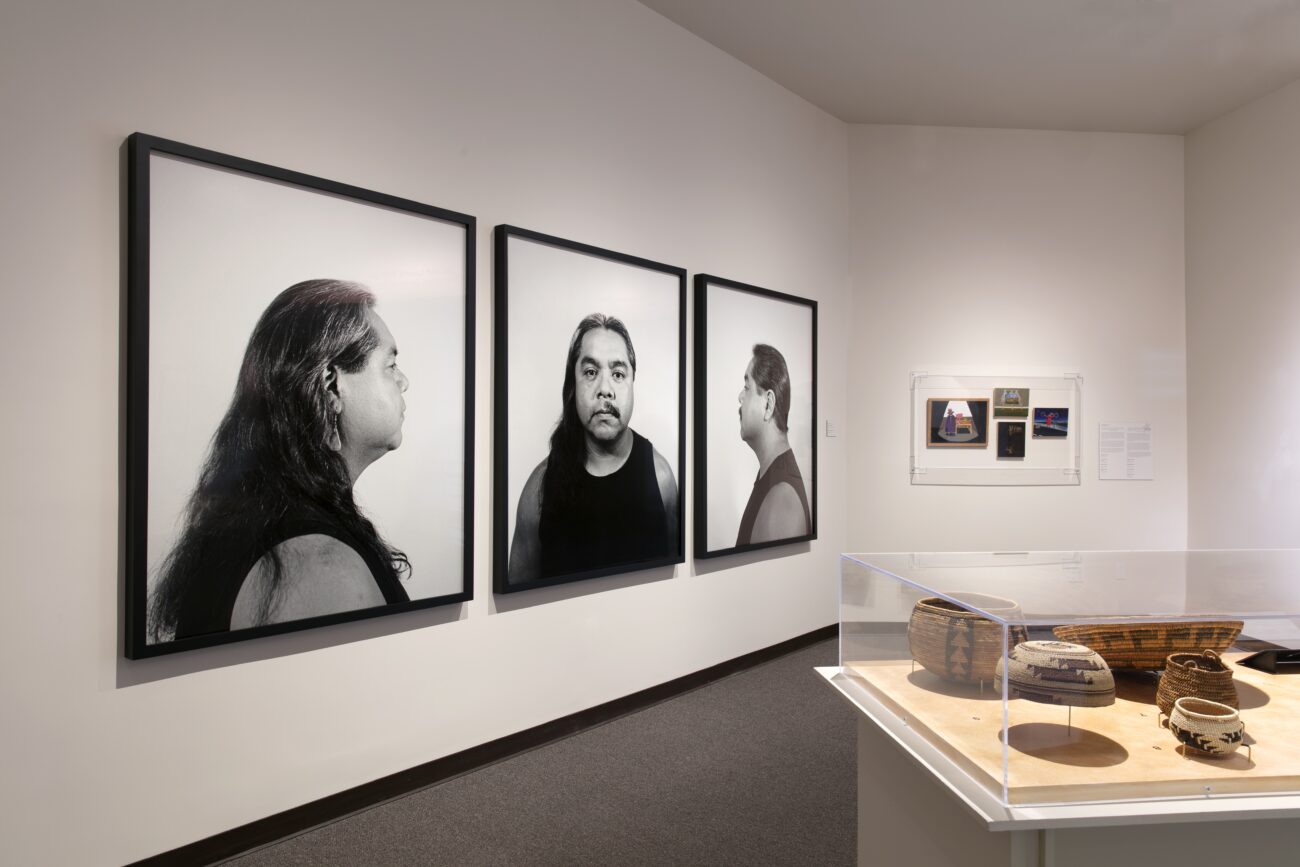 James Luna (1950–2018) was an internationally renowned performance and installation artist of Puyukitchum/Luiseño and Mexican American descent who resided on the La Jolla Indian Reservation in North County San Diego, California. Throughout his life, Luna fearlessly confronted stereotypes and cultural misconceptions about Native Americans, using his body as a powerful tool to challenge viewers' perceptions. His two works in this exhibition—Take a Picture With a Real Indian ( loan courtesy of IAIA Archives) and Half Indian/Half Mexican ( pictured above) —exposed the objectification and humiliation of Indigenous people and critiqued the representation of Native American cultures in mainstream society. Luna's work delved into complex themes of identity, colonization, and historical injustices, leaving a lasting impact on the art world and inspiring critical conversations about the experiences of indigenous communities. His legacy continues to shape the contemporary art scene and advocate for the voices of marginalized communities.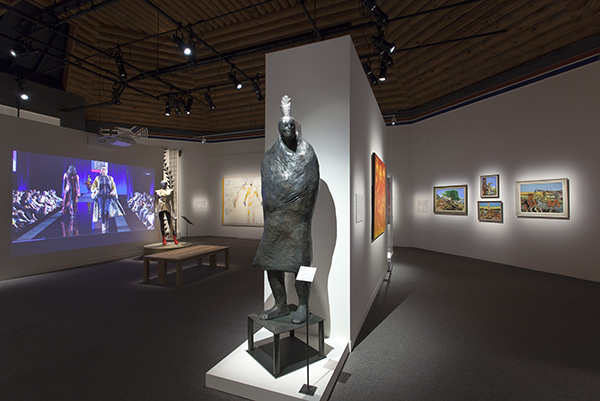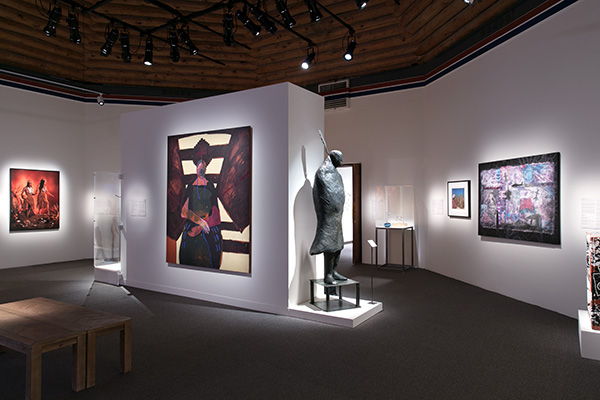 Fritz Scholder (1937–2005) was a prominent Native American artist whose work significantly influenced contemporary American art. As a member of the Luiseño tribe, Scholder's art often explored themes of identity, culture, and the complexities of Native American experiences in modern society. He is best known for his bold and innovative approach, blending elements of pop art, abstract expressionism, and traditional Native American imagery. Scholder gained widespread recognition in the 1960s for his controversial "Indian" series, where he challenged romanticized and stereotypical representations of Native Americans in art. His paintings depicted Native Americans in non-stereotypical ways, exploring their struggles and frustrations with their cultural heritage. This groundbreaking series ignited critical discussions about cultural representation and the role of Native American artists in shaping their own narratives. Throughout his artistic career, Scholder continued to experiment with various media, producing paintings, sculptures, prints, and mixed-media works. His artistic legacy remains a profound influence on Native American art and resonates with audiences worldwide for its powerful and challenging exploration of cultural identity and representation. Pictured above is Another Martyr No. 4 (left image) and Navajo Woman and Blanket (right image).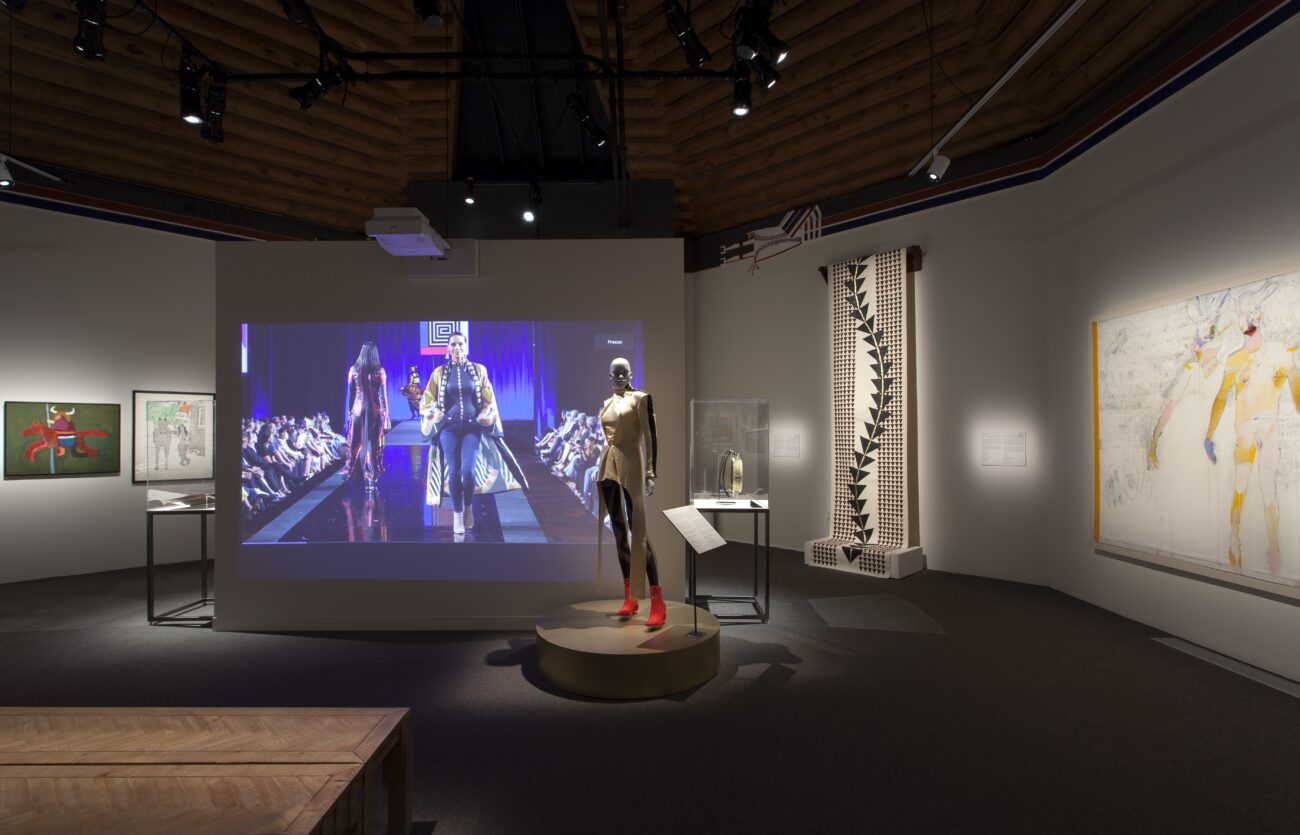 Billy "War Soldier" Soza (1949–2014), a member of the Soboba Band of Luiseño Indians, began as an artist and activist in an era of civil social unrest during the beginnings of the American Indian Movement (AIM) in the 60s and 70s. While Indian on a Merry-Go-Round ( pictured above to the left) maintains a tongue-in-cheek, even flippant, air, its questions of self and cultural identity, socio-political activism, and the relentless hurdles that Native people are confronted with are inextricable. This ironic image of an Indian on a carnival ride expresses how Native people have been dehumanized and sensationalized—circling round and round and going nowhere—at the expense of cultural heritage and progress.
California Stars: Huivaniūs Pütsiv is on view in the Wheelwright Museum's Klah Gallery through January 14, 2024.