Helen was born and raised in Pasadena, California and received her BA from Pomona College in 1956. She then attended Columbia University before earning her MA from Boston University in 1958. Helen decided not to pursue a Ph.D. at Harvard University when she decided to shift her career from academia and museum work to the creation of artwork, and instead returned back to Southern California after a few years.
When speaking with the Los Angeles County Museum of Art (LACMA) curator, Carol Eliel, about her return to California, Helen describes the light as being different and affecting her and her work in a special way. She went on to describe her childhood, playing in the tide pools near Laguna. "This is as close to my conscious memory as yesterday. I can remember looking into the pools and seeing things; and then either the tide or the wind or my submerged finger would ripple the surface and then all the light on the bottom would start to play. That was the very first time I sensed that light was an alive thing."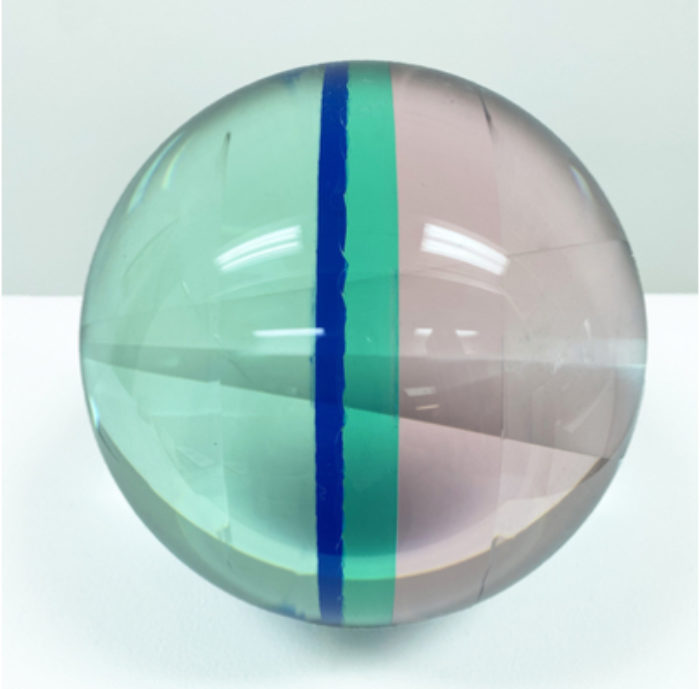 This childhood fascination with light became the basis for her artwork. As an art historian with a focus on the Dutch Golden Age of the 17th century, Helen's deep regard for Johannes Vermeer, the painter of light, was also fundamental to her longstanding interest in the effects and perception of light. Once back from Boston, Helen dove into painting, using oils and turpentine, and then in 1965 she discovered a material that would change everything—clear resin. With her academic background and creative mind, she began to play with the material, and learn how to mold, shape and control it. It was and still is a grueling process, since resin can be fickle.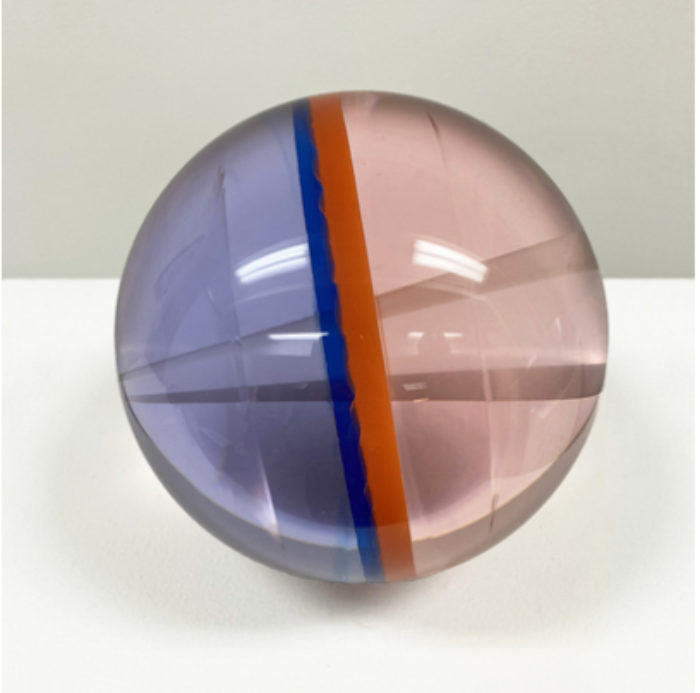 In speaking with LACMA, Helen described the difficulty of the process and what kept her going. "The numerous problems that can occur with its usage have been recorded by the Getty Conservation Institute in its work related to the Pacific Standard Time initiative. Suffice to say, if any of the variables are not properly addressed, the piece fails and is on a direct trajectory to the dumpster! … However, as difficult as this material was, it was quite captivating. As soon as a piece was removed from its mold, it was instantly apparent what would happen in relation to surrounding light."
Helen quickly became an important member of the Light and Space movement of the 1960s and 1970s in California. The movement focused on minimalism and perceptual phenomena, such as light, volume and scale, through the use of materials such as glass, neon, fluorescent lights, resin and cast acrylic.
She showed her smaller resin pieces at Rex Evans Gallery in 1965, where she began interacting and meeting other artists and fabricators—like Jack Brogan, who was a wizard at handling new materials and technologies. He worked with Helen to create a technique for polishing her work which became invaluable to creating her disc and sphere series.
"It was Jack, who taught me to see."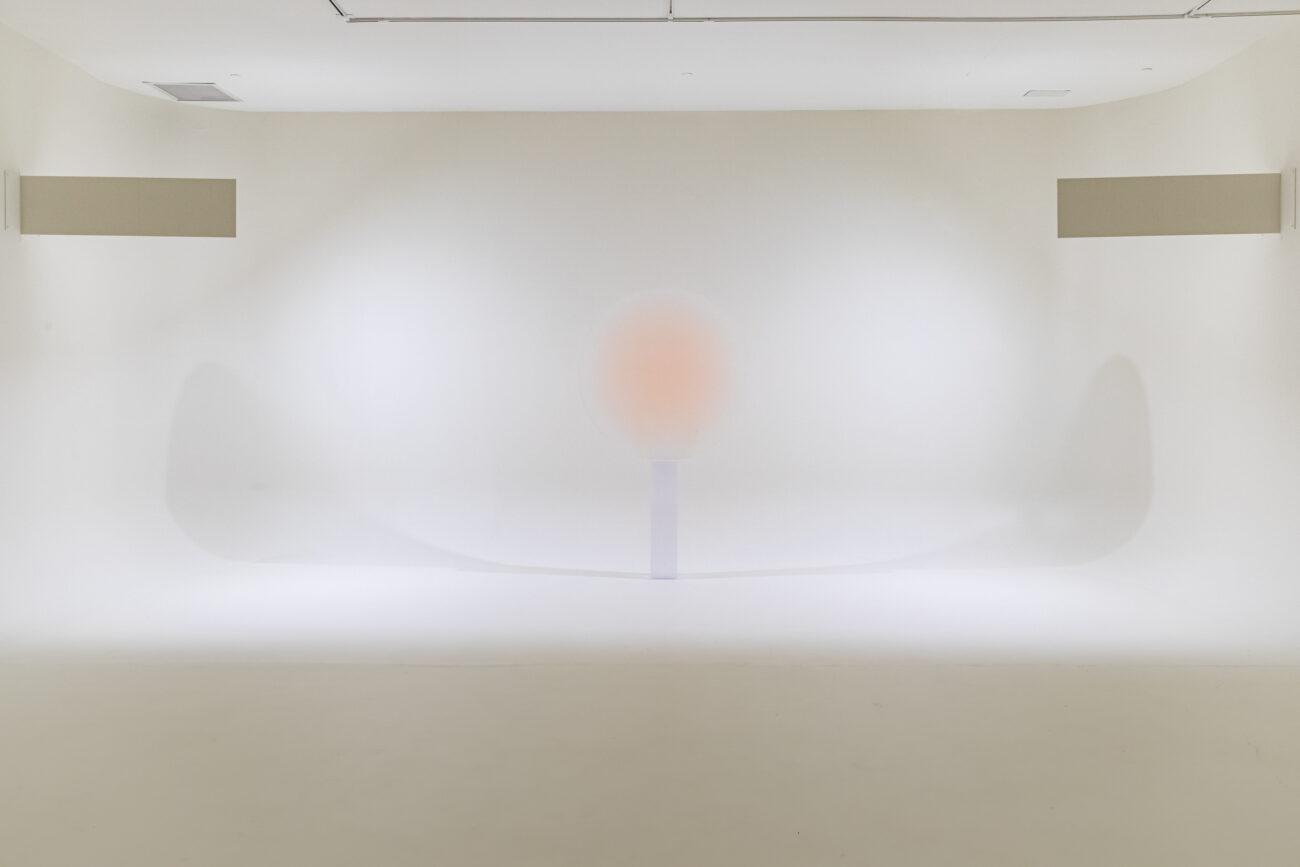 During the 1970s, Helen began her first series of discs which she now refers to as lenses. These lenses appear to the viewer as discs of color floating in space, creating the illusion that the sculpture is both floating in front of and simultaneously receding into the wall behind it.
Helen's ability to engage light as a material that alters, changes and seemingly dematerializes an object is unmatched. She began to revisit this series in the 2010s and is now pushing the scale—some as large as 60 inches in diameter—along with the visual immateriality of these works to the limit, creating optical effects that confound the viewer.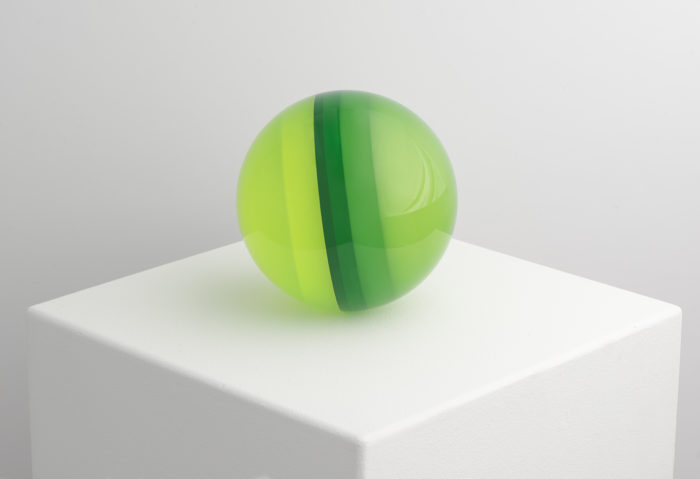 In 2011, the Museum of Contemporary Art San Diego and the Getty Foundation presented Phenomenal: California Light, Space, Surface, the most significant exhibition to focus on the Light and Space movement. Helen's work was featured in the exhibition, but it also presented her with a major opportunity when she was commissioned by LACMA to create her first large-scale sculptural installation—12 formed acrylic columns with custom light fixtures on a specialized dimming cycle.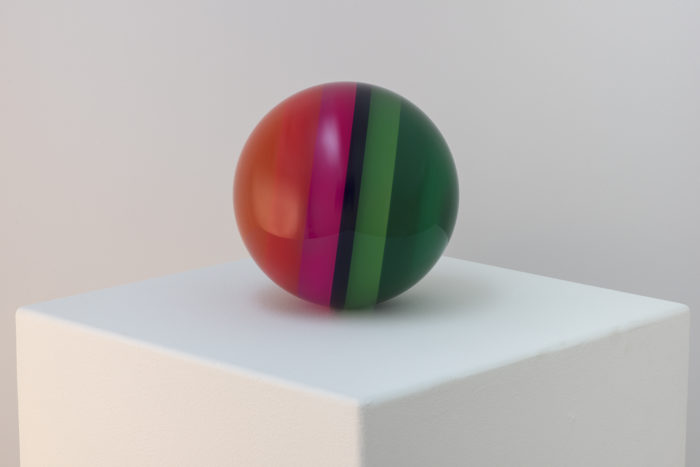 In 2021, Helen had two landmark exhibitions, a retrospective at SITE Santa Fe; followed by a major Light and Space show at the Copenhagen Contemporary International Art Center. When speaking with Wallpaper magazine about her recognition in the past few years, Helen said "People have actually said to me, and rudely, 'Don't you wish you could have done this when you were 35?' This is the truth: I couldn't have done it when I was 35. I didn't know enough. I hadn't experienced enough. Every artist has their own personal evolution. I'm a very slow bloomer. These pieces are a culmination of that first lens, made 50 years ago. They've become more sophisticated and I've gotten better at doing them because they're technically very difficult."
Helen's artwork is in numerous public and private collections nationally and internationally, including Andrew Dickson White Museum, Cornell University, Ithaca, NY; Frederick Weisman Collection, Los Angeles, CA; Los Angeles County Museum of Art, CA; Museum of Contemporary Art, San Diego, CA; Norton Simon Museum, Pasadena, CA; Palm Springs Art Museum, CA; Pomona College Museum of Art, Claremont, CA; Portland Art Museum, OR; San Francisco Museum of Modern Art, CA; and Santa Barbara Museum of Art, CA.