Contemporary artist Mandy El-Sayegh, widely known for her multidisciplinary approach to art, incorporates painting, drawing and collage into her practice. Born in 1985 in Malaysia to a Chinese-Malaysian midwife and a Palestinian calligrapher, El-Sayegh moved to the United Kingdom when she was six years old. Her chosen materials and motifs are shaped and inspired by both parents' careers, especially her mother's time working in a latex factory. After graduating from the Royal College of Art in 2011 with an MA in painting, El-Sayegh cared for young adults with non-verbal autism for five years before beginning to work full-time as an artist.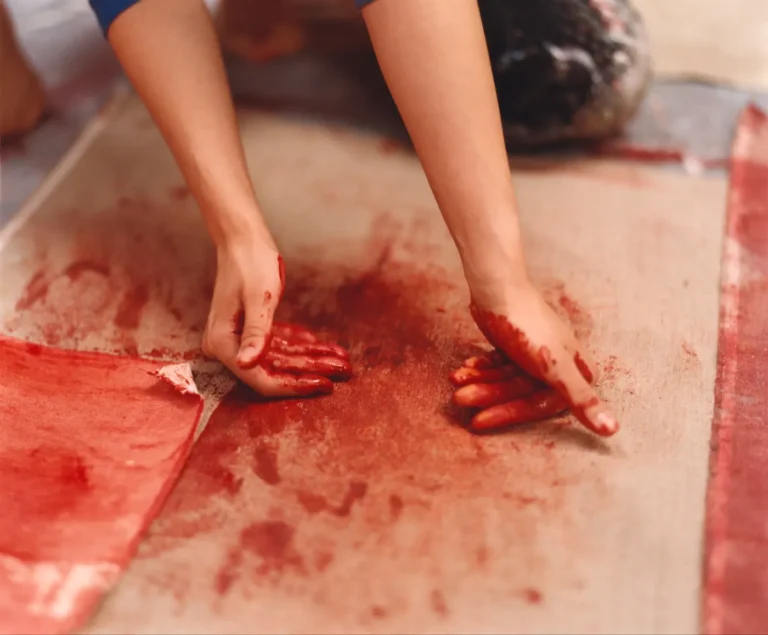 Concepts of identity and the ways in which individuals are shaped by cultural, social and political forces are explored throughout the artist's oeuvre. She is particularly interested in exploring the part to whole relationship—the spontaneous and unpremeditated process which brings together various smaller elements, micro-interactions and repetitions leading to the final product. As a self-described hoarder, El-Sayegh incorporates personal memorabilia into her work. Her technique of layering involves overlapping images, text fragments and geometric patterns, creating a visually rich and dense aesthetic alongside a wealth of information pathways and linguistical contexts.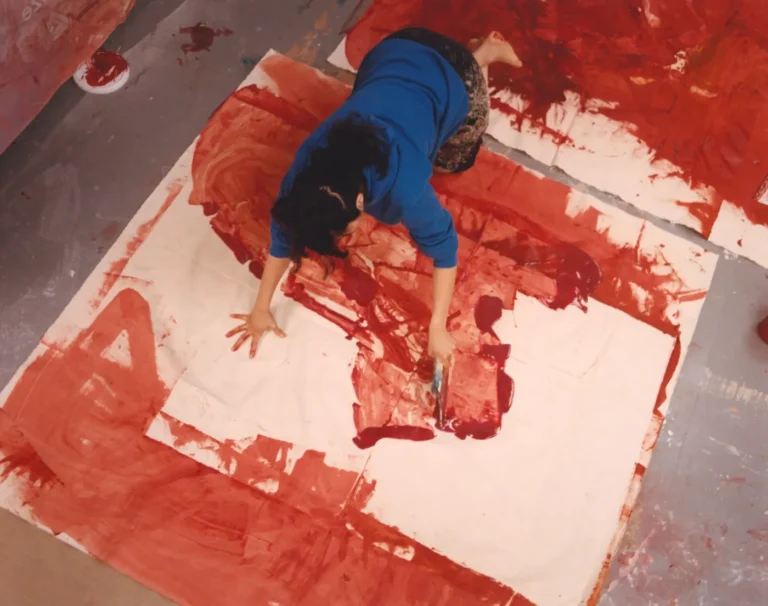 Thaddeus Ropac Curator and Senior Global Director Julia Peyton-Jones describes El-Sayegh's painterly palette: "[El-Sayegh] deals with the bruising elements of the human experience." Often combining latex and fleshy-hued paper from old copies of the Financial Times with her father's penmanship,  El-Sayegh positions the body—and herself—at the center of the work. These seemingly disparate materials, or "fragments," are brought together in a process the artist says is "like surgery," referring to her collage process as "suturing" and her painted surfaces as "skins."
In my work, there is never a composition or imagined image, but rather a direct or literal reference to the body.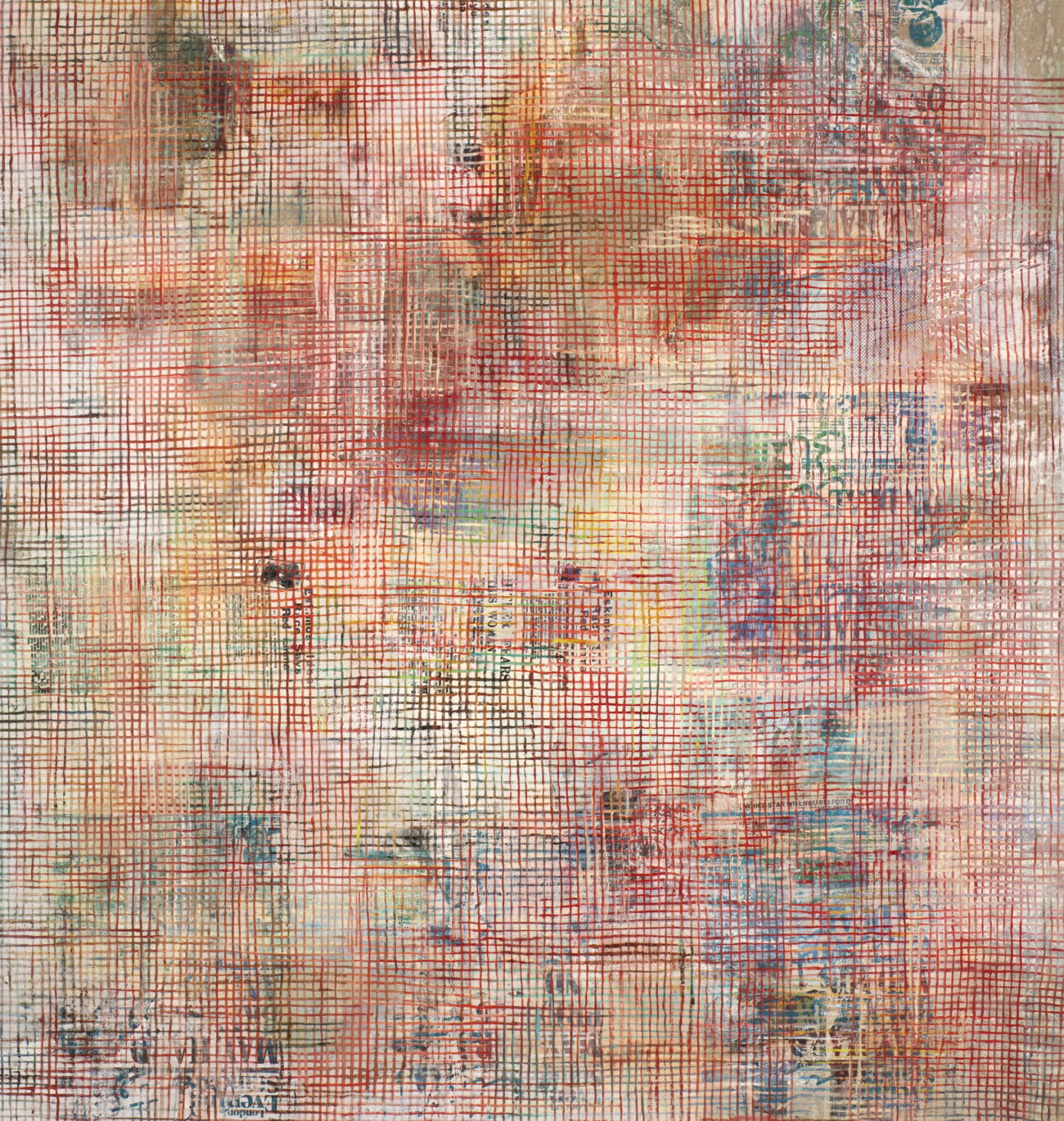 The metaphor of the body grounds these elements in a universally recognizable register: "we all have bodies, regardless of our context, political leanings, and time contingencies," the artist explains. In her ongoing series Net-Grid, in which she notably uses a format reminiscent of a tailor's or seamstress' grid to organize and structure her compositions of a 1 cm squared red line on white paper used to cut parts for garments, she again alludes to the body. Here, the grid pattern insinuates the appearance of a wound's medical mesh or a gauze bandage.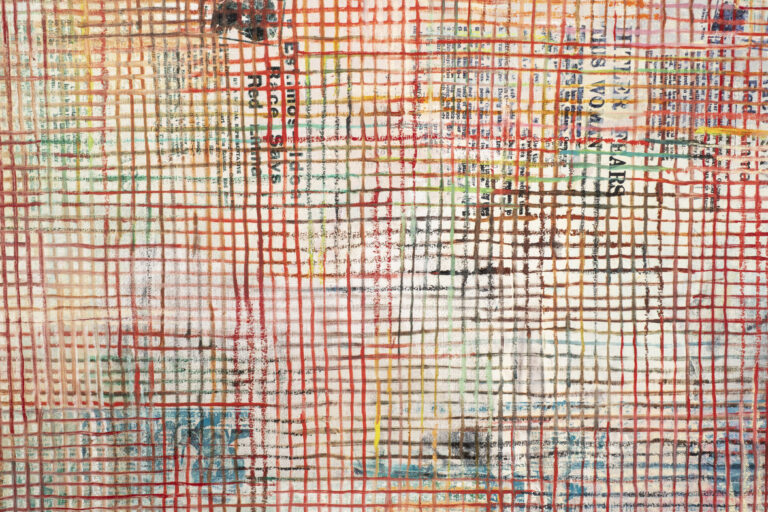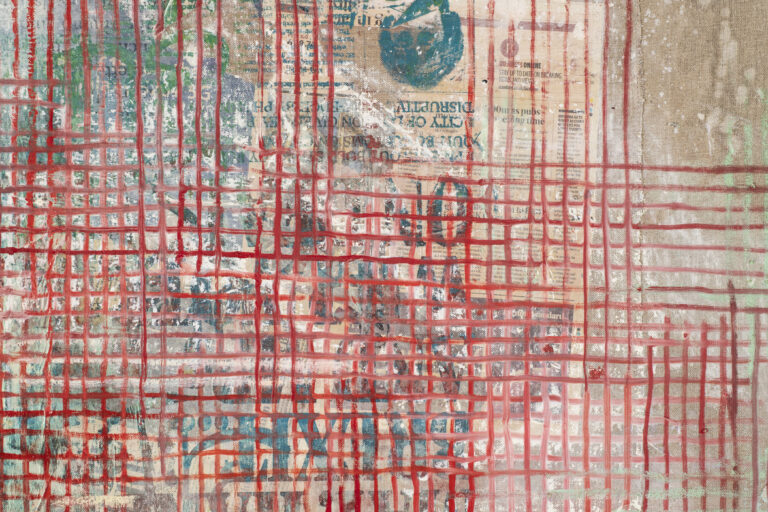 El-Sayegh continues to explore these themes through new media including sculpture, video, painting, performance, installation and sound. Throughout, a medical, surgical or bodily element is reflected in her material. In her sculptures, for example, stainless steel specimen tables evoke the morgue and hospital. Similarly, her floor installations regularly feature a use of latex with an iodine-like stain and fleshy texture. Each form can be seen as biographical. In 2022, El-Sayegh had her first solo show and performance at The Centre Pompidou, Paris and was recently nominated for the Le Prix Jean-François Prat in early 2023. She currently lives and works in London.